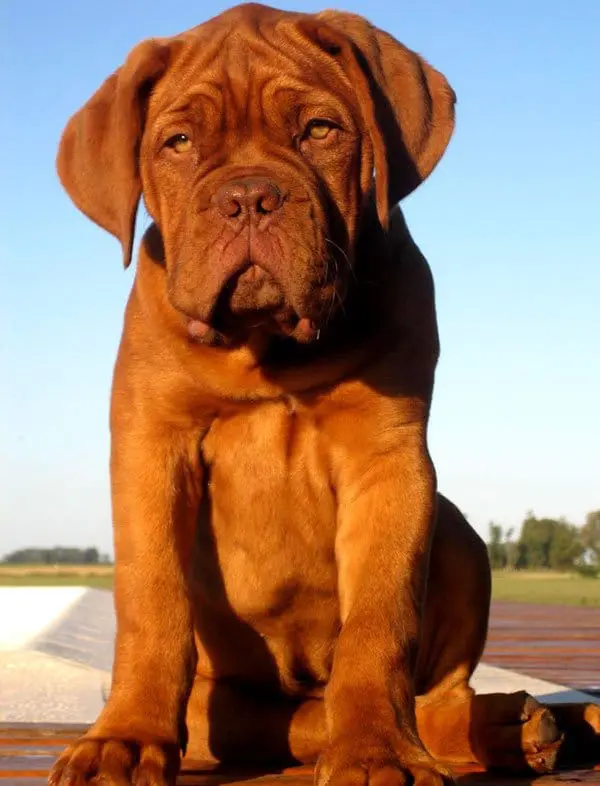 The Bordeaux Mastiff is of French origin, part of the great family of the Mastiffs still medium size turns out to be a dog of great strength and power, as a firm and determined to make it a great guard dog.
It is one of the most ancient French breeds, coming from the Eastern mastiffs arrived in Europe with the barbarian hordes. In more recent times, other races have contributed to the definition of this: the Mastiff, the English Bulldog, and the German Doge. The result is a dog of great strength and power in detriment of the agility and speed.
Formerly it was also used for hunting large animals and fighting in the arenas. Later, Once finished the big hunt and that kind of circus shows, their popularity declined considerably, limiting its use to guard properties.
Its origin goes back to the time of the Celts who used it to save treasures and for hunting. In the middle ages knew two kinds of this dog: one the "dog butcher" and the other the "Turkish dog", trained for the fight with bears, bulls and other dogs. Later he used as a guard from the House and castles. In Bordeaux, at the end of the 19th century, It was believed that the race had disappeared, returning to develop currently.
It is an excellent homemade dog, farm and family, keeping very well to his master and properties.
Its general appearance gives idea of great strength and power. The head is bulky and has a number of folds quite marked. The Doge in Bordeaux has a short and wide head, the snout is short and powerful, his very strong teeth. Abundant lip with the lower jaw forward. The snout is pointed or long. Each other quite estranged eyes, they are oval and Hazel or dark color. The pendulous ears are very large with very high insertion. Chin and short neck. Straight and wide loin, picked up by a strong and deep chest, well built belly. The trunk has a wide and well rounded chest, the limbs are very muscular. Strong at the base and tapered tail, pendulum is carried.
The fur is short, smooth and fine, It can be colour mahogany, Fawn or grey. It is considered important that his walk is very elastic and majestically put in evidence his great power.
"Dogo of Bordeaux also so called"Dogue de Bordeaux" o "French Mastiff (French Mastiff)".
It is quiet and balanced, very attached to his master and his family, is loving, reserved with strangers and neutral with them when his master, that shows his affection and loyalty. Gentle and patient with children, to those who want and protects. He hates the loneliness and the inaction and never be aggressive spontaneously.
It is considered very faithful towards his master and good dog with children. But there ends their nobility, It is aggressive with other dogs and can be a problem if there are other pets in the House.
Otros nombres: Mastín de Burdeos / Dogue de Bordeaux / Bordeauxdogge
Group 2 / Section 2 -molosoides and mountain dogs.
Dogs breeds: Bordeaux Mastiff