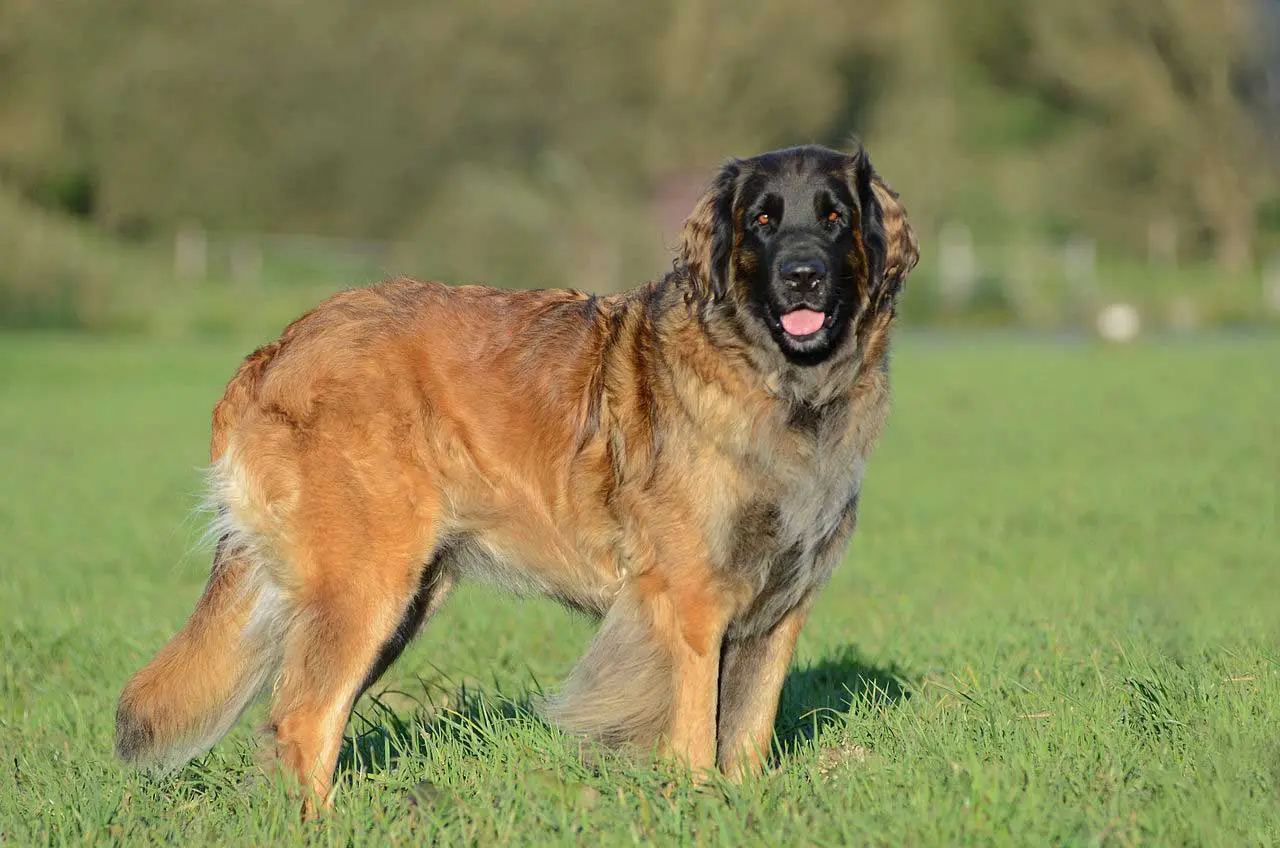 The Leonberger it is a very big and beautiful dog. In his head and in his charisma he remembers a St. Bernard and a lion at the same time. And this is not a coincidence, because the St. Bernard is one of the ancestors of Leonberger. The Leo, as his friends call it, It is a young and at the same time old breed of dog. This breed is ancient, porque ha sido criada específicamente de acuerdo con el estándar desde 1846. The Leo It, therefore, una de las razas de perro más antiguas de la cría moderna. At the same time it is a breed of young dog; because it was only created at that time. La mayoría de los otros perros de pedigrí tienen una larga historia y se originaron de antiguas razas de perros de trabajo.
The Leonberger, However, tiene una historia diferente y única. Among 1820 and 1850 San Bernardo became fashionable throughout Europe. The heroic exploits of the legendary St. Bernard Barry at the Great St. Bernard Pass in the Alps had a great effect. Barry has been shown to save more than 40 people of death by snow. En todas partes la gente quería estos grandes perros y eran (and they are) really big dogs.
Breeders and traders were unable to meet the high demand. At the same time high prices were paid for a puppy of St. Bernard. Así que bastantes traficantes de perros del suroeste de Alemania ayudaron sin más. They mated St. Bernard with very big bitches from the region. Los cachorros que parecían un St. Bernard se vendían como tal, pero para los demás había como mucho unas cuantas patatas de un granjero. The dog trade was – as it still is today – un negocio lucrativo y algunos vendían cientos de cachorros al año y se hacían ricos.
Like Leonberg City Hall and dog vendor Heinrich Essig. An intelligent idea occurred to him and turned need into virtue. Creó una marca a partir de los cachorros que no podía comercializar como St. Bernard. Instead of giving them away, sold the puppies for good money. Thus was born the Leonberger. Inspired by the lion from the coat of arms of his hometown, this new breed of dog has the appearance of a lion. His dogs were nicknamed Leonhardiner in the envious competition. También en el mundo oficial de los perros estos híbridos pasaron desapercibidos durante mucho tiempo. Like this, el cinólogo Ludwig Beckmann, universally recognized at that time, ni siquiera menciona al Leonhardiner en su obra en dos volúmenes "The breeds of the dog" (Las razas del perro) of 1895. From the point of view of health, such a genetically heterogeneous offspring is an advantage.
The Leonberger debería ser un éxito en todos los aspectos. Hoy en día pertenece a las rocas primitivas del mundo de los perros de raza, que ningún amante de los perros quiere perderse. In 1895 was founded the "International Dog Club Leonberger", which quickly achieved official recognition of the Leonberger like race. In 1948 followed by "German Dog Club Leonberger" based in Leonberg, que aún representa al Leonberger at VDH and around the world. The Leonberger has a unique charisma, imposing and at the same time friendly, quiet and just sovereign. Its appearance is reminiscent of a lion and its character is also majestic, pacífico y totalmente adecuado para las familias.
The Leonberger It is an impressive large dog with a height at the withers in males between 72 and 80 cm and in females between 65 and 75 cm.. No weight given. However, will be some 80 kg. The standard describes its appearance as:
"In accordance with its original purpose, the Leonberger it's a very big dog, strong, muscular and elegant at the same time. Se caracteriza por una construcción armoniosa y una calma segura de sí mismo con un temperamento vivo. Especially the male dog is powerful and powerful."
Its coat should be medium soft to thick, broadly long, well lying. The Leo has a strong inner layer. Las formas de su físico deberían ser reconocibles. On the neck and chest, the fur, especially in males, must form a mane. The coat will be lion yellow, red, reddish brown and all the combinations between them, but always with a black mask. In favor of this lion gaze, hereditary factors related to health and longevity have been neglected.
A study published by the University of Vienna evaluated 7582 layers of Leonberger between 1932 and 2009. "It was determined that the average age of death of the Leonberger It was from 7,55 years". Durante el período del estudio, la esperanza de vida incluso había disminuido en 1,5 años en las últimas tres décadas. With a healthy upbringing, 10 or 12 años serían normales. La cría ha reconocido estas señales de alarma y ahora se centra más en la salud y la extensión de la esperanza de vida de estos grandes perros.
The mind of a Leonberger is pious as a lamb. Being with him is pure slowdown for man. The essence is described in the standard:
Como perro de la familia, the Leonberger is a pleasant companion in current living conditions, that can be carried everywhere without any difficulty and is characterized by a pronounced kindness towards children. No es ni tímido ni agresivo. Como perro de compañía es un compañero agradable, obedient and fearless in all life situations.
The strength of character required includes above all: confianza en sí mismo, sovereign calm, average temperament (including game instinct), willingness to subordinate, good learning and memorizing ability and noise tolerance. The character of Leonberger impresses all dog lovers.
Once you get to know dogs better Leonberger, you will be enchanted by them forever. There is almost nothing that can disturb this giant. Su muy alto umbral de estímulo así como su compostura estoica son la contrapartida necesaria de su enorme fuerza. Estos dos polos caracterizan así la naturaleza del Leonberger. Aquí y allá es algo terco. Sólo la buena persuasión y la súplica ayudarán, then he will do everything for his master or lady. But as a family member he is very kind. Seeks proximity to its humans. It is a reliable protector for them. The Leonberger he is a great guy, ¡un perro fascinante!
Fitness
The Leonberger not an easy dog ​​to keep due to its size. By its nature, has very few demands. A daily walk, brushed once a week, that was all. You don't need a big garden, but a garden is already useful. He likes to take possession of it. Therefore, un pequeño apartamento en el enésimo piso no sería para él. Does not fit in all cars. One must consider: You're mine, the whole car will get wet. Leo can bear the heat, but it should not be challenged. Prefiere el frío. The Leonberger he is a great friend and not an object for acting addicts.
It should also be borne in mind that in our current society, large dogs are often rejected. Some people just fear a giant like Leo, even if he behaves – as is normal for him – exemplary. This is one of the reasons why it is not advisable to keep it in the big city..
One must have a sufficient budget to be able to pay a lot of good food and, in case of doubt, also the vet. It also, debería haber considerado antes de comprar qué hacer si el perro está enfermo y es posible que haya que llevar 80 kg or more. Last, but not less important, there are many practical things that have a profound influence on everyday life. Aquí uno debe hacerse realmente responsable y mirarse honestamente en el espejo si se dan todas las condiciones para una feliz convivencia con los perros Leonberger. Who can claim this, is in an enviable situation of dog owner. The Leonberger worth a sin.
It must be remembered that in a Leo adult, la correa es sólo un símbolo de control. The Leonberger has the power to control the other end of the strap. But he doesn't want. The Leonberger it's basically easy to train. Only his stubbornness has to be broken here and there with consistent smoothness.. He wants to follow his lord and master and he does it very reliably. It is an elementary duty of the owner of a Leonberger to pay attention to a consistent education already in the puppy. Because only this and not the leash makes wonderful walks in nature possible, that together with this great four-legged friend become a balm for the soul of agitated people. The great dog should never be "educated" by blows or barracks methods. Porque eso causaría exactamente lo contrario de la educación y terminaría en un desastre.
Caring for a healthy Leo is not a problem. Brushing the coat once a week is enough.
Nutrition / Food
You need a lot of high quality food. Un bol elevado es útil para contrarrestar el riesgo de torsión estomacal. Always pay attention to the weight.
As in most large dogs, we see hip or elbow dysplasia. Osteosarcoma, el tumor óseo más común en los perros, también es muy común en el Leonberger.
Leonberge life expectancy
Before the life expectancy of a Leonberger It was from 12 years, today is from 7 to 9 years. La cría está trabajando para recuperar la vida natural posible de un perro sano. Está acompañado aquí por un proyecto de investigación de la Universidad de Medicina Veterinaria de Hannover.
The purchase of a Leo it should be long-term and well thought out. You should carefully check if you have all the requirements to be able to spend many wonderful years with this giant.. If you are looking for a puppy, debe asegurarse sobre todo de que los perros no se críen demasiado. Ask about ancestors, their illnesses, his age reached. Debería ver a un criador afiliado al FCI Leonberger. Really, a Leonberger it costs about 2.000 EUR.
Photos:
1 – Leonberger Hündin by The animal photography at de.wikipedia / CC BY-SA
2 – Leonberger by https://pxhere.com/es/photo/1394923
3 – Leonberger, head photographed in 2004 at a dog show in Dresden by Karina Leo-Steffen, uploaded here from –Caronna 13:43, 15 Apr 2005 (UTC) / CC BY-SA
4 – Leonberger by https://www.pexels.com/es-es/foto/75295/
5 – Leonberger by https://pxhere.com/es/photo/1434187
6 – Leonberger by Pleple2000 / CC BY-SA
7 – Leonberger by https://www.needpix.com/photo/1100946/dog-leonberger-giant-pedigree-purebred-animal-canine
FCI CLASSIFICATION: 145
Group 2: Pinscher and Schnauzer - Molossoid and Swiss Mountain and Cattledogs
Section 2.2: Molossoid, mountain type. Without working trial.
Federations:
– FCI – Pinscher and Schnauzer-Molossoid type dogs – Swiss Mountain Dogs and Cattledogs. Section 2.2 Molossoid, mountain type.

ⓘ

– AKC – Working dogs

ⓘ

– ANKC – Group 6 (utility dogs)

ⓘ

– CKC – Working dogs

ⓘ

– ​KC – Working dogs

ⓘ

– NZKC – Utility dog

ⓘ

– UKC – Watchdog

ⓘ
FCI breed standard "Leonberger"
FCI -

Leonberger
1.

Leo, Gentle Lion, Gentle Giant

(English).
2.

Chien Leonberg

(French).
3.

Leo

(German).
4.

Leo

(Portuguese).
5.

Leo

(español).