This breed belongs to the group of hounds that spread throughout the Balkan territory. The hounds of Asia Minor are believed to have played an important role in its creation. The first description of this breed under the name of "Balkan scent hound" data of 1905 ; we owe it to Franz Laska, who described this breed among other hound dogs.
The first standard was written in 1924, but it wasn't until the Bled session of the 14 in May of 1940, that the F.C.I. adopted the standards already announced in Estol as in 1939, and among which was the "Balkan scent hound". Since this is the most widespread breed in Serbia, es la Asociación Cinólogica Yugoslava quien controla su crianza y procede a las inscripciones en el libro oficial de los orígenes.
The 12 in November of 1996, during their meeting in Copenhagen, the General Committee of the F.C.I.. discussed the proposal accepted by the general assembly of the Yugoslav Cynological Association and accepted that the appellation "Balkan scent hound" was replaced by Serbian hound.
Source: fci
Photo: Face of Serbian Hound female 2 year old by Android90, CC BY-SA 3.0, via Wikimedia Commons
Physical characteristics "Serbian hound"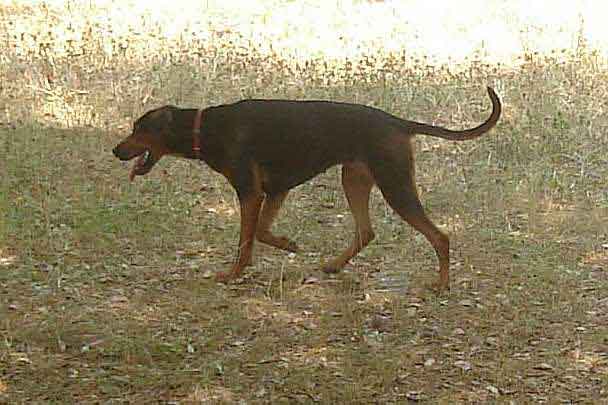 The Serbian hound es una raza de perro de caza en jauría utilizada en Serbia, medium-sized, also known as "Balkan scent hound".
Su físico es fuerte, his lively and energetic charisma. The breed's shoulder height in males is between 46 and 56 cm., preferably between 51 and 52 cm.. Bitches have a height at the withers between 44 and 54 cm., being the ideal size of 48 to 49 cm.. The weight of the Serbian hound is between 11 and 22 kg.
Your head is flat and tilted, its pointed snout.
Lo que llama la atención son las grandes orejas caídas de los animales, que son típicas de los perros de caza.
The coat of dogs is thick, luxurious and has undercoat. It is short and close to the body. Coat color is a shade of red ranging from yellowish red to fox red, and dogs often have a black coat or saddle.
As a whole, his fur is shiny.
Life expectancy Serbian hound is of 12 to 13 years.
Character and skills "Serbian hound"
Tireless, continuing with lively y, the Serbian hound they have a balanced temperament and good character.
They are also very docile dogs with a high and often deep voice..
These sturdy built dogs are calm and dignified, eager to please their master.
However, need firm authority in their training, space and lots of exercise.
The "Balkan scent hound" puede ser un buen perro de compañía, although its primary function is that of a hunting dog (running / searching or tracking). They are remarkably tenacious in the field.
| | |
| --- | --- |
| Serbian Hound (Srpski Gonič) | Sabueso Serbio (Srpski Gonic) – Raza de Perro |
FCI CLASSIFICATION: 150
Group 6: Scent hounds, and related breeds.
Section 1.2: Medium-sized hound-type dogs.. With proof of work..
Federations:
– FCI – Group 6: Scent hounds, and related breeds. – Section 1.2: Medium-sized Hounds.

ⓘ
FCI breed standard "Serbian hound"
FCI -

Serbian hound
1.

(Serbian: српски гонич/srpski gonič), Balkan Hound

(English).
2.

Chien courant des Balkans

(French).
3.

Serbische Bracke, Balkanbracke

(German).
4.

(em sérvio: srpski gonic)

(Portuguese).
5.

Cazador de los Balcanes, Sabueso de los Balcanes

(español).