The Italian hound It, according to the vast majority of authors, a dog with very ancient origins. It is believed, in fact, descended from hunting dogs that lived from ancient Egypt, they reached the shores of the Mediterranean Sea, and therefore also to Italy, thanks to the Phoenician merchants. Many Egyptian drawings dating from the time of the pharaohs show the presence of dogs very similar to the current one Italian hound.
His best period is the Renaissance, when its level was improved and its great diffusion began. The race then underwent a slow and inexorable decline until, from the beginning of the 20th century, the Italian hound it became very popular again.
The modern history of Italian hound started on 1920, year in which the Technical Committee of the Society of Hound Hobbyists drew up the first breed standard that a few years later, in 1929 to be exact, was approved by the Italian Kennel Club. At that time there was a single standard that unified the Italian Rough-Haired Hound and to the "Italian short-haired Segugio"; in 1976 came the prohibition of mating between the two varieties; then, in 1989, the ENCI (Ente Nazionale della Cinofilia Italiana) passed two different standards, standards that were later also recognized by the FCI which classified them in the group 6, among hound-type dogs, and related breeds.
The Italian short-haired Segugio probably has the same origins as the "Italian Rough-Haired Hound"; in fact, in almost the entire peninsula both varieties of hounds have always coexisted.
Physical characteristics "Italian short-haired Segugio"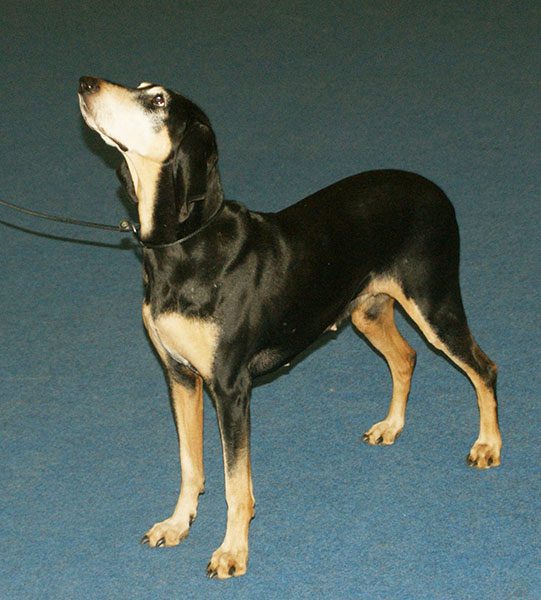 The Italian short-haired Segugio represents perfection for those who care about physical appearance: in fact, has no fat and is very muscular. This physical characteristic, combined with a regular body, makes it particularly fast and suitable for running. It's not a coincidence, in fact, get tired only after vigorous physical activity.
Hair is shaved all over the body, dense, dense and smooth.
The allowed colors are:
– Fawn unicolor in all its gradations.
– Black and Tan.
Fawn dogs may have a white muzzle and skull, a white star on the chest, white on the neck, metacarpos, metatarsos, feet and tip of tail.
The height of the males ranges from 52 and 58 cm., that of the females between 48 and 56 cm.. The weight can vary between 18 and 28 kg.
Character and skills "Italian short-haired Segugio"
Alive and bold. Never aggressive towards humans; rarely towards other dogs. It does not bite. Suits austere food and country kennels. Not conspicuously affectionate, but constantly needs the presence and consideration of the owner, who often identifies with the one who accompanies him during the hunt.
If he is well-maintained and has a breed-appropriate lifestyle, the Italian short-haired Segugio You can live up 12 or 13 years. This is because this type of dog is not predisposed to particular diseases derived from its breed.
Those who love them say that…
"I did not choose to live with a "Hound", I mean it was not a choice out of passion for this breed… it happened to me! It turns out that I share my life with a "Hound". It was and still is the most amazing experience of my life. Live with a "Hound" means learning to have time, a lot of time to walk "only" exploring life, silent. It is learning that you can stay in the forest for hours without doing anything other than living and discovering the forest. And that's it. The "Hound" teaches you not to pay attention to appearances, to pursue your passions tenaciously while those who look at you think you are just sniffing. He is an extremely sensitive partner but at the same time proud and independent. Living with Chloe is an adventure, made of constant and subtle balances between sharing and the search for individuality, the desire for freedom and the need to feel close to each other, is to learn every day to discover and respect yourself".

Silvia De Cristofaro
Videos "Italian short-haired Segugio"
| | |
| --- | --- |
| segugio italiano sofiko evros 2/7/2017 Εκπαιδευτικό | Segugio Italiano fulvo a pelo raso (Alexia)-1/1 |
CLASSIFICATION FCI: 337
Group 6: Scent hounds, and related breeds.
Section 1.2: Medium-sized hound-type dogs.. With proof of work..
Federations:
– FCI – Group 6: Scent hounds, and related breeds. – Section 1.2: Medium-sized Hounds.

ⓘ

– ​KC –

Houndy

ⓘ
FCI breed standard "Italian short-haired Segugio"
FCI -

Italian short-haired Segugio