It is said that the Swiss Hound is among the oldest members of the Group of Hounds. According to a 15th century letter to Ernst, Elector of Saxony (1441-86), Swiss working dogs were among the best. 17th century images show packs of hounds "with the same color and the same size, large heads and very long ears".
Three centuries later, the german dog writer Richard Strebel wrote in "Die Deutschen Hunde" (German dog breeds, 1903-05) that hounds that lived separately in a restricted area of ​​Switzerland therefore developed separately.
In the decade of 1890, it seemed that purebred hounds were marked for death in Switzerland, despite the breeding of the Schwyz Hound, Bernese Hound and Lucerne Hound. Some hounds were exported to Scandinavia and, thanks to the crossing with native hounds, the Stövares (scandinavian hounds) they were blooming. But at the same time, the Thurgauer Laufhund quietly disappeared in Switzerland, and the Aargauer Laufhund gave way to Jura Hound (Bruno Jura Hound).
In 1903, J. Dust del Swiss Kennel Club founded the Schweizerische Laufhunde-Club (Swiss Hound Club) and in 1907 an appeal was made to save the Swiss hound of extinction. Then something remarkable happened: the breed club bought good quality Swiss hounds and gave them to prudent breeders and hunters. Test rules and regulations were developed and a series of obligations were established: -) only one dog at a time when hunting; b) the dog had to be under control when hunting; c) a dog that disappeared while hunting had to return to its master within half an hour; y d) the dog was to return as soon as the horn sounded, regardless of whether the dog was looking. Using these rules, the breed club tried to exclude disobedient dogs and forced owners to properly breed and train their dogs.
Four varieties
The development of Swiss Hound started in the decade of 1930, but it took time and effort. In 1937, only five hounds were entered in the Swiss herd book. The Dr. O. Vollenweider managed to gather 11 hound collectors in the city of Soleura, in northwestern Switzerland. Suitable dogs were selected for breeding and, in 1933, a breed standard was published. In the standard, the varieties were distinguished by coat color and pattern.
In 1944, 150 Swiss hounds were entered in a hound exhibition. (As a neutral country, Switzerland did not participate in WWII) It was no longer forbidden to work with dogs that gave tongue, and bloodhounds of more than 20 inches (50 centimeters) to the cross.
Attempts to save or restore the Laufhund de Argovia they were unsuccessful; in 1933, the breed standard was canceled. Four varieties remained: the Bernese Hound, the Jura Hound (Bruno Jura Hound), the Lucerne Hound and the Schwyz Hound. Their names connect them with cities and areas of Switzerland (Berne, Lucerne, Jura), or with Switzerland.
It is said that between 1902 and 1922, a few 1.200 swiss hounds, mainly Schwyz Hound white-yellow, they were raised in Norway. Some years, there were more Swiss hounds outside of Switzerland than in their home country. In 1993, about 1.000 copies of Lucerne Hound they lived in sweden.
France is another importer. Seventy-five Jura Hound (Bruno Jura Hound) enrolled in an exhibition in Lyon in 1976. It is not surprising that the Jura is predominantly found in France and Switzerland, and that it extends to Germany. Since the 15th century, Swiss hounds were also exported to Italy. According to Räber, they frequently crossed paths with his Italian cousin, the Italian short-haired Segugio.
Photo: XXXVIII Wystawa krajowa psów rasowych w Częstochowie. Gończy ze Schwyz: Ella Haniccina Zahradka z hodowli Z Pastorowej Sfory należąca do Mariusza i Wioletty Antoszczuk by chained, CC BY-SA 3.0, via Wikimedia Commons
Swiss Hound varieties:
The Bernese Hound It is mainly used for hunting hare.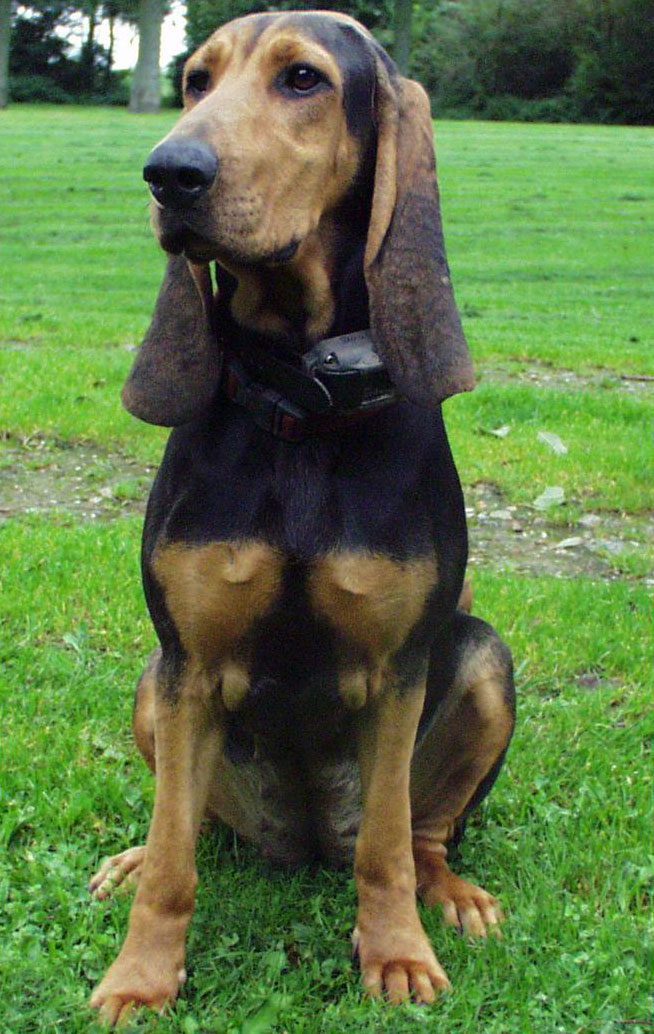 The Jura Hound It is very distant with strangers and needs firm handling if kept as pets.
The Lucerne Hound is a lively dog, but gentle and docile. Very attached to his master.
The Schwyz Hound they are a very lively and energetic breed that requires a significant amount of daily exercise.